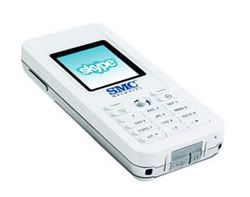 2 weeks are gone since I got the SMC phone and I am sorry to inform you that the phone sucks. I am so annoyed with it and upset.
At the beginning I was very much swept away with the idea of on wifi Voip phone – no we are at low tide …. why?
Well first of all the sound quality of the phone is poor and on top of that there is some kind of weird delay. I come off really rude, because for the other person on the phone it sounds like I am falling always into their words… pain! And no it has nothing to do the with signal strength cuz in my office I got 3 bars!
The other thing is that it has some kind of weird power problem, the battery is 3/4 full but still just breaks down and shuts down the whole phone in the middle of a conversation. Restarting takes a while … searching for the network, logging into the Skype account … meanwhile the other person calles 5 times wondering what went wrong.
Last but not least … the battery power after being fully charged is like nothing … you better hook the phone up every night, otherwise you might run low on power.
Yeah, and the free fon router is still not here.
I still have the RTX cordless headset which is connect via USB!
Well I am back to it and the wifi phone is just for when I am traveling. Sad!
Both are available in the Skype Shop
Do you have a Skype Voip / Wifi Phone? What experiences did you make?
Tags: Skype, Review SMC, Wifi, Wifi Phone, Voip, RTX, USB, Quality
Posted by @ 13 December 2006