Reactable – video powered by Metacafe
Berlin is the place to be – why did I move? I am just kidding.
This video is of the Reactable:
The reactable, is a state-of-the-art multi-user electro-acoustic music instrument with a tabletop tangible user interface. Several simultaneous performers share complete control over the instrument by moving physical artefacts on the table surface and constructing different audio topologies in a kind of tangible modular synthesizer or graspable flow-controlled programming language.
More info: Reactable
Here a still: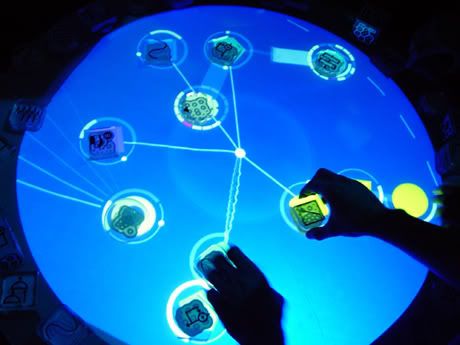 Coverd by Melanie: The Awesome Graphic Designer at Clubtransmediale
Tags: Design, Berlin, Clubtransmediale, Video, Interactive, Ractable, Video, Blue
Posted by @ 3 February 2007