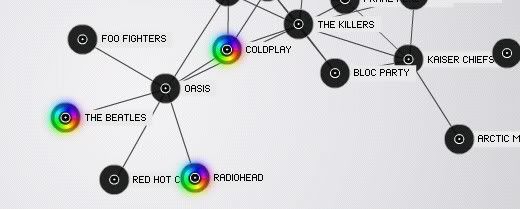 An innovative mapping system allows TuneGlue users to not only check out information, biogs and discographies of thousands of bands but to expand outwards from that band to other like-minded groups. Starting at The Kaiser Chiefs I made this little map which already takes in everything from The Beatles to Death Cab For Cutie.
It is a fairly new application so the biogs and some information are still being added but it's still a nice place to get band details which also happens to look rather smart.
See also, Musicovery – a music player which you change depending on your mood and has a similar animation method.
Posted by @ 10 February 2007