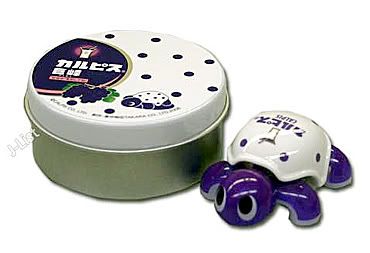 I'd call mine "Poopsy"
Walkie Bits is the famous toy from Takara — a mini robotic turtle that responds to commands made by tapping its shell! With four different modes, this tiny turtle can walk and run, sing, race, or walk in a rhythm you program by tapping its shell. Already recognized all over the world, and even given recognition by Time magazine in November 2005 as one of the best robot inventions of '05, the Walkie Bits turtles have become even become a fashion accessory, where owners are customizing their turtles with nail art and giving them new shells and more! This 2" long turtle is operated by a button CR2032 button battery (one is provided) and moves in a cute wiggling fashion that is simply adorable.

Just tap the shell to cycle through the four modes: 1) walk and run mode where it will waddle for you; 2) Sing mode where it sings a song; 3) Race mode where it will run as fast as it can (signalled by the "pipi" of a whistle) and 4) Rhythm mode where it will walk in a rhythm you create through the tapping of its shell. Very innovative, you'll enjoy spending time with your robot turtle! This comes with a can that looks like a hard candy can. (caution: because of the coating of the shell, it is recommended not to lick the turtle — yes, it has that warning on the package!) This is for the grape Calpis version, celebrating the famous nutrient-replenishing drink created in Japan.
Link: Poopsy Robot Turtle
Technorati Tags: Cute, Gadgets, Gift Ideas, Robot, Robotic, Turtle, Calpis, Walkie, Bits, Japan