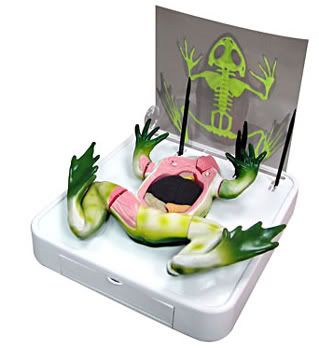 Takes the fun about the yikes.
Get acquainted with the internal organs of a frog – no formaldehyde, no gloves, but plenty of icky fun and lots of learning.

10 inch authentically decorated frog with "feel like real" removable organs
Dissecting table with storage drawers
Dissecting accessories
X-ray films of skeleton and muscles
Anatomy guide

Discover what's inside a frog with vivid "real" feeling parts.
Link: Fake Frog Anatomy Kit
Technorati Tags: Toys, Weird, Fake, Frog, Anatomy, School, Yikes