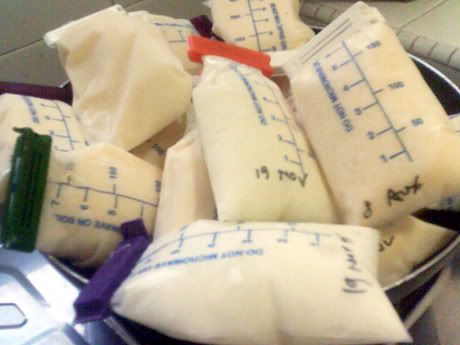 Image courtesy Indrani Soemardjan
This is the easiest type of cheese to make, Paneer otherwise known as Cottage Cheese. Paneer can be cooked as curry or whatever indian food you want, and has a consistency similar to Tofu. It can be fried or baked or anything, basically what you can do to Tofu you would be able to do to Paneer too.
My extensive experience in making Paneer compelled me to try something different, that is, making Paneer out of my own breastmilk. Basically this is human cheese. Why would I do that? Well, basically, there are about twenty bags (each 150ml) of frozen breastmilk in the fridge, and they have passed their three months drinkability period, which means I would not be able to donate the milk like I did before. But the milk is still less than six month old, which is the actual expiry date. So what do I do with it? I could make cream soup like I did several months ago. But I really wanted to try something different, and making Breast Milk Paneer sounds really exciting.
See the full recipe here
Posted by Ross
Technorati Tags: Food and Drink, Guest Blogger, Cottage Cheese, Breast, Milk