Will Random Good Stuff be next?
Shortly after I published the "Linkbait Friday" campaign yesterday RGS reader Mike left this this comment:
I dont wanna spoil the fun, but this kinda linkbait got john chow banned from google
Thanks to that I could not sleep … all night I was thinking "Will RGS be banned from Google because of Linkbait Friday?"
So I decided to take a closer look in the case of John Chow:
Read his very first blog post in December 2005 here.
And Shortly after his traffic went: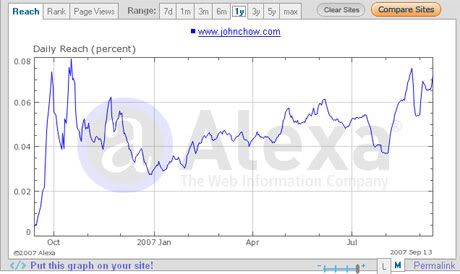 In December 2006 he decided to run a LinkBaiting Campaign and he offered every blog reviewing his site in context of making money blogging a link to the reviewers site. Random Good Stuff could not resist
Well he got banned from Google for that … Chris Hemphill got the whole scoop.
Did John Chow suffer because of that? Not at all .. as you can see in the graph above.
See for yourself and google search John Chow … no link to his site.
Now, high up in the results is John Cow and as you can see that sites shows up on the first google page. That witty webmaster took advantage of John Chow's ban and is guiding lost sheep in the search of John Chow to his site. With great success as you can see: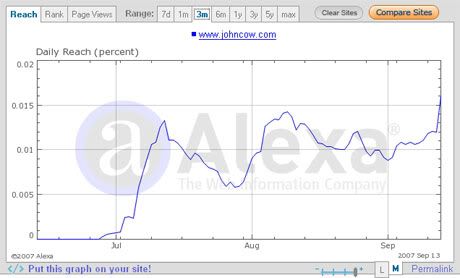 WOW!
Bastard .. lol
Now back to RGS … John Chow might be able to survive a ban from Google ….. Random Good Stuff probably won't so now the question will my Linkbait Friday get me into trouble with Google? Please Vote:
In my case I am not asking for a review about RGS with a specific anchor text. I am offering my content and ask for a via: link and every Friday I want to link to everyone taking part in a thank you post with a link to their site. Is that really that bad?
Looking especially forward to get Feedback from following Dot Com Moguls:
If you have any input you can back up feel free to post them as a comment. And until further notice I will put my Linkbait Friday on hold, don't feel like getting banned … yet 😉
Posted by @ 15 September 2007