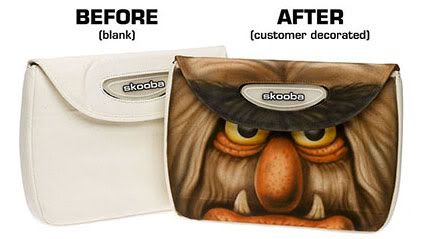 Now you just have to be talented and you could big Mona Lisa Bucks.
Laptop sales have increased dramatically – pretty soon, they'll outstrip PC desktop sales. Soon, everyone will have a laptop. Further, everyone with a laptop will also have a laptop bag. What does yours look like? The bag you carry says a lot about what kind of person you are.

The black messenger bag that came with your laptop? You're pragmatic, and maybe a little frugal. The leather messenger bag says you've probably got a bit more money, and like the status it brings you. The giant laptop bag on wheels says you're a packrat. The backpack indicates either college student or lumbar pain. If you bare-hand it, you're just an idiot.

None of these methods of portable-computer conveyance really tell anything more than the most superficial things. If you really want to express who you are, you've got be able to communicate it. Your most expressive nature is in your art. So pick up your pen, pencil, paintbrush or whatever you've got and get your freak on.
Link: Laptop Canvas Sleeve
RGS Tip: Awesome Mp3 Player Bargains
Posted by @ 26 October 2007