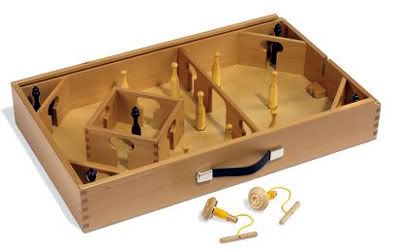 They says this game is from Germany .. I never knew that .. sounds French to me. Oh well, learned something new.
Originating in Germany in 1858, this wooden Jeu Du Roi game challenges players to knock over enemy pieces using a spinning top that autonomously moves around the gameboard through doorways cut into the partitions.

Made from beech sanded smooth so that every piece of the gameboard dovetails squarely together for a seamless fit, the game is played by positioning each knight on pre-determined locations and placing the king in the central castle. The top is spun by pulling a wound string as it is released onto the gameboard. Players decide the number of rounds and points are awarded according to how many knights are knocked over en route to slaying the king.
Link: Jeu Du Roi
Quick Link: More Cool Toys
Posted by @ 3 November 2007