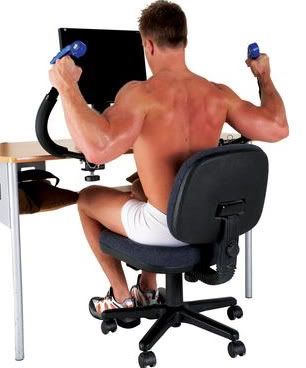 Oh .. slurp. I wish dial up back so there will be more time for working out while blogging. We need more studs these days.
Your upper body is what makes you beautiful and appear to be fit or not. Yet, almost every home gym product in the last 25 years has only offered exercises targeting your abs, thighs and cardio vascular system. The SpringFlex changes everything!

Numerous repetitive stress injuries have been linked to sitting in front of a desk all day. Lower metabolism and increased weight gain have also been linked to a sedentary work day. But what if you could get a workout when you are just sitting at your desk? Easily attach the SpringFlex to your desk, door or a similar surface. The SprigFlex lets you do over 120 exercises virtually anywhere at anytime.
Link: Desk Workout Turns blogger Into Studs and Studettes
Homer Link: Dough-Nu-Matic
Posted by @ 5 January 2008