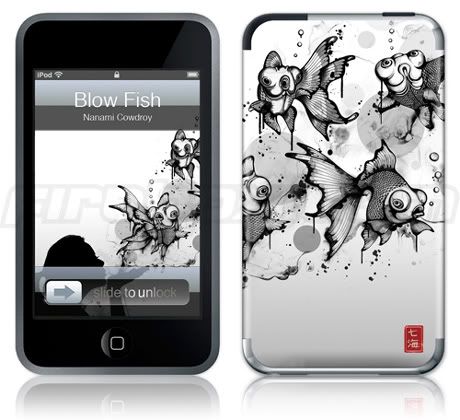 If you think your iPod Toch or Notebook doesn't look stylish enough … add some extra skin.
GelaSkins are easy-peasy to apply. Simply peel off the protective backing and carefully position the design to fit around all those gorgeous minimal lines and curvy edges. As well as an art-crammed protective skin you also get a crystal-clear screen protector that won't bubble up or haze over. And if you're posh enough to own an iPod Touch you'll get access to a downloadable screensaver that matches your chosen design. Brilliant!

Best of all GelaSkins can be removed without leaving any sticky marks, so you can customise the look of your device as many times as you fancy. Whether you're keeping things compact with an iPod Nano (3rd generation), letting your fingers do the walking with an iPod Touch, or tapping away on a 13" Macbook or 15" laptop, there's a GelaSkin to suit. And with several eye-popping designs available you're spoilt for choice.
Link: Stylish GelaSkins
An other ipod touch link: Cool Protecting Cases
Posted by @ 8 January 2008