The entry is brought to you by the makers (that's us) of Lastminute Auction: The place for Ebay Addicts!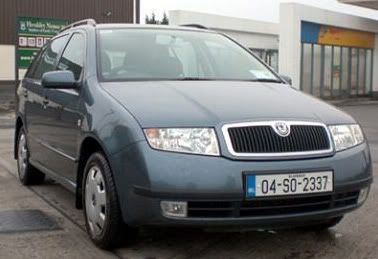 Due to our move (which will be happen within the next 2 or 3 weeks) we have to sell our very much loved Skoda. We will be living right in the center of the city, the steering wheel is on the right hand side and the money we will save without the car makes us depart from it. Don't take it personal little car. We will miss you too.
We have to sell the car before the move and time is running out – we had the car on several websites and in the Newspaper and not even one single phone call or email of someone showing the slightest interest! That really makes us nervous. So Mike went yesterday to a second hand car dealer and they said that they totally stopped buying in used cars. Apparently the economy in Ireland is so good that all the Irish are only buying sparkling new vehicles. Good for them, bad for us.
So we decided to put up the car on Ebay! Ireland is a pretty weak Ebay country in terms of users and items but this our last draw, this car has to go. We basically have nothing to loose, since we have a reserve price, except loosing the ebay fee (15 Euros to put up a car with a reserve price and in case a bid will meet the reserve an other 35 Euros)! Oh well – so far so good … the highest bid went from 1 Euro to 500 within the first 30 Minutes. Couple of more hundreds to go – but still … I am very surprised and I have to admit that I underestimated the Ebay market even in a small country like Ireland.
If you are always wondered if selling a car on ebay would be something for you, then keep an eye on our Skoda Ebay Auction:
Skoda Fabia 2004 – Hatchback – Great Family Car
In case we sell that car you will be able to sell your car as well, no matter how rural you live!
Couldn't sleep all night because I was to worried about the whole move and stuff – so I was thinking about making this Skoda the very first Ebay – Travelling Car! You know, sometimes you will find these auctions of shirts, where every winning bidder signs it and puts it back on Ebay hoping to sell it for a higher price – it's almost like a chain letter.
So how about that – If the car sells for more than 10.000 Euros I have my face (or Chucky's) paintbrushed on the car – comes with RGS Url and my personal signature if the sellers has that wish. The buyer can add his face, logo or url on it and put's it back up on Ebay and so on.
Half asleep ideas always sound better at that moment than at the next morning .. lol! Oh, well I have to get through with it now.
So for example:
I sell it to Jon Cow (a big hello to Dublin) and he sells is to Coolest Gadget —> Ehrensenf —> Flabber —> About:Blank—> Bornrich—> Gizmodo—-> BoingBoing—> Shoemoney—> problogger—> so on!
Until Microsoft, Apple or Ebay buys it themselves to donate the selling price for a good cause.
LOL – sorry for being so silly this morning.
Coffee Shop Link: DIY Coffee Roaster
Posted by @ 22 January 2008