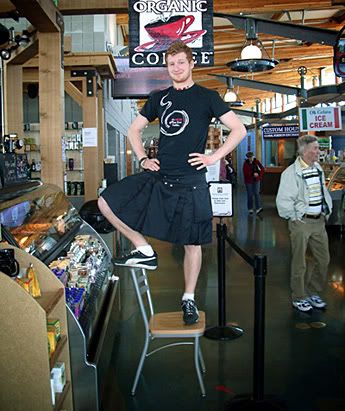 Knickers under it, yes or no? What do you think?
What are ye starin' at, ye wee girl?! This be no skirt, this be a Utilikilt! Fashioned after the traditional garb of the Celtic warrior. Now of course ye know, William Wallace has ne'er worn a kilt – they weren't invented until Willie had been stone dead for nearly four-hundred years, but they're still all about freedom! Edited by RGS, see comment!

Made from a poly-cotton blend so it's durable and yet soft. It's got lots of pockets for your crap, so you can carry a cellphone, or screwdrivers, or a beer should the need arise. Big riveted snaps keep everything safe and secure, including your manhood.
Link: Sexy Geek Kilt
Movie Gadget Link: Cute Micro Home Theater System
Posted by @ 31 January 2008