Before I start with the weird video games here some Spiderman Games. I know you are here for it
Spider-Man Plug'n Play Game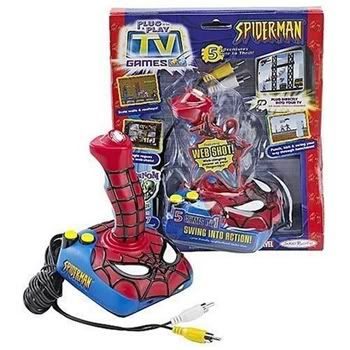 Spiderman Plug & Play 5-in-1 TV Game. Is your spider-sense flying off the radar? Most likely it is from this Spider-man Plug & Play TV game. Take on the role of the neighborhood crime fighter and battle sinister enemies including the Green Goblin, Rogue and more. Your skills as the web-slinging hero will be put to the ultimate test with 5 action packed games: Streets of the City, Doc Ock Horror!, Green Goblin's Escape, Venom's Vindication! and Rogues Gallery, inside one controller. But fight well; the fate of the city depends on you. The lightweight, compact, all-inclusive controller, allows gamers to play video games anywhere there is a TV with A/V input jacks.
More info: Plug & Play Spiderman Game
Spider-Man Tipover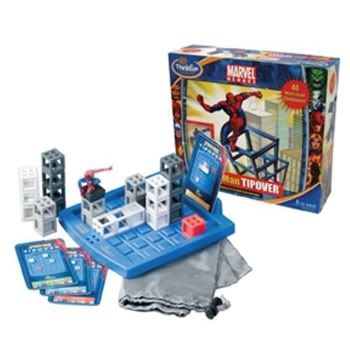 As Spider-Man, can you leap from crate to crate to avoid being captured' Superheroes will love setting up this game board — just assemble it according to the pictures depicted on each challenge card. Then use your Spidey sense as you leap around the game board. Game features four levels of play, 40 challenge cards with solutions, Spider-Man game piece, 17 color-coded crates and travel/storage bag.
More info: Spideman Tipover
And now the weird interactive video games:
Poor granny, she was all proud doing her first online shopping. And of course she puts her grandchildren first. How shocked she was finding out that her "cool" video games just got plain laughed at. But what did she expect? Come on … Taffy the phony pony?
Taffy The Pony
This interactive adventure video game features Taffy; a huge, inflatable ride-on horse that can be taught tricks and plays games. The all-in-one video system easily plugs into your TV and includes 6 games. The game's controls are built into the reins of the inflatable horse that allow you to care for and ride her.
Link: Taffy the Phony Pony Video Game
Wipeout Surfing
With this game you shoot the pipe, hang ten, carve the waves all while staying dry! To play all you have to do is plug the 40" long surfboard into the audio and video jacks of your TV and start practicing carving up the waves, riding the tube and performing radical maneuvers! The motion sensors located on the board allow you to control the game, and get a taste of surfing in your own living room.
Link: Mommy Look – I am a real cool surfer now video game
Jetski Interactive Video Game
This is a wireless video system that features tilt controls that react to your movements. The game controls are built into the inflatable 52" Jetski racer. There are six action arcade games to choose from. The Jet Ski Video game requires a lot of full body exercise. It's inflatable and reactive, so you're bouncing and jouncing around like you're really out on the open water. Imagine getting a workout while experiencing the fun of a jet ski!
Link: Feel like drowning myself but fun jetski video game
The "Amazing" Spiderman Video Game
This unique video game combines a stand-on interface with a hand controller to bring all the excitement of Marvels most popular super hero to life. With this game you can shoot webs, patrol the city, stop crime, battle super-villains and more just like Spiderman.
Link: You will get beat up for liking this game
Auction Link: Super Cheap Toys
Posted by RGS @ 5 February 2008