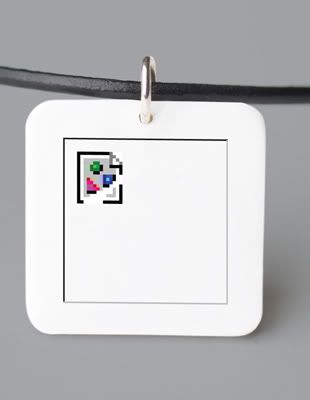 Ha – I am loving it … no need to clear your cache!
Green circles, red triangles, and blue squares. No, these are not the the latest polygons in the Lucky Charms lineup. They're your friendly "broken image" icon component parts, er, well, maybe not yours. Depending on your browser, YBIIMV (Your Broken Image Icon May Vary). Hang the broken image symbol around your neck, and voila. Your necklace has failed to load. It's a freaking clever idea we couldn't resist. The necklace is on a 17" leather cord closed with a sterling silver clasp. T

he pendant itself is lightweight, made from non-toxic shrink plastic (with a protective coating) and measures about 1 inch square. These are handmade by the artist in California, so expect some slight variation which betrays they were not made by a robot. At least, not so far as we know, but we didn't do a Turing test on her.
Link: Broken Image Necklace
Oh Oh Link: Make Pizza under 2 Minutes Oven
Posted by @ 19 March 2008