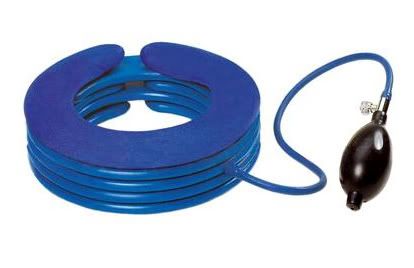 Kayan necks will be the new fashion trend of summer 2008. So you better get at it looking like a gracies giraffe. And by the way if stretching your neck you are doing it on your own risk.
Simply place it around your neck and pump the inflation bulb until you feel a comfortable stretch. This stretching action gently relaxes tight muscles, and relieves joint and nerve pressure. Lightweight and completely portable, you can use the traction device while watching TV, working at your computer, reclining or relaxing — at home, at the office or when you travel.

It's much easier and convenient to use than over-the-door traction devices that require filling waterbags and wearing awkward head halters.
Link: DIY Kayan Neck
Green Thumb Link: Gardens in a Can