The Jumbo Jet Hostel is part of the weird but cool hostels from around the world.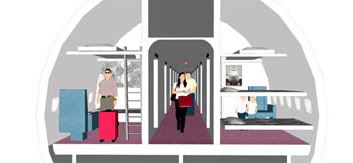 Take you kids for jumbo sleep-over. They will love you forever.
From the beginning of December, hostelguests will, for the first time ever, be able to spend the night in areal, seasoned jumbo jet – on the ground! This is the perfect way tostart your trip abroad. The plane is a used out jumbo jet model 747-200made in 1976. It has been awarded a brand new, modern interiordecoration, offering night guests an experience apart. It's excitingfor aviation enthusiasts and families with children as well as forbusiness people. This exhilarating experience leaves no-one indifferent–we promise.
More info: Jumbo Jet Hostel
Posted by RGS @ 29 August 2008
Tags : Budget , Hostels , Jumbo Jet , Jumbo Jet Hostel , Stockholm , Sweden