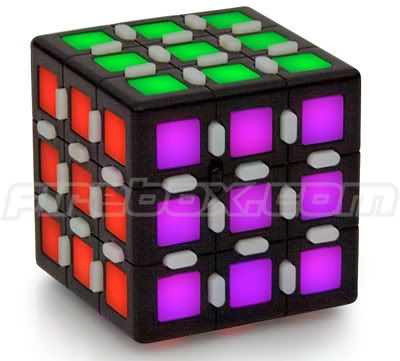 A different, more "modern" take of the the classic cube puzzle. That would be also a pretty neat iPhone application too. Any developer ready?
Basically the entire digital shebang is crammed with colour-changing LEDs, so instead of manually twisting segments you press buttons to move the colours in the desired direction. Genius. But wait, there's more: the Magic Cube contains other games, including Landmine (six players take it in turn to push a button until they hit a 'landmine'), Noughts and Crosses and a Simon-style follow-my-leader challenge.

The original twisty-turny cube won countless design awards back in its heyday, and we fully expect this hi-tech version to follow suit. It really is a beautifully put-together object. All you have to do is solve it.
More info: Magic LED Cube 2.0
– Toilet Graphics for your Bathroom – Duh!
Posted by @ 20 October 2008
Tags : LED , Retro , Toys