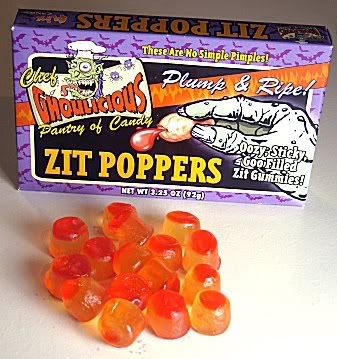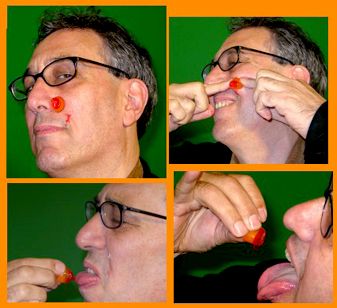 Sorry – I know this is gross but I have to admit that I'm very close to press the buy button. Gross but how will they taste?
Well, sick minds think alike, because some troubled candy company has come out with ZIT POPPERS CANDY! They're so gross, they might be worse than eating real zits. (Okay, we exaggerate…. but just a little.)

Each insane box of Zit Poppers Candy contains 3.25 ounces of candy zits. That's approximately 16 zits. (We can't believe we're even WRITING this.) The zits are soft and sticky, and if you squeeze them hard enough, a bloody candy ooze seeps out. Those of you courageous enough to eat Zit Poppers will discover they have a wonderful strawberry and watermelon flavor. (We checked the box, and no actual blood, puss, or sputum is used in making the candy.)
More info and photo credit: Zit Popper Candy
– This site will blow your mind!
Posted by Oren Wilkes @ 23 October 2008
Tags : Candy , Gross , Halloween