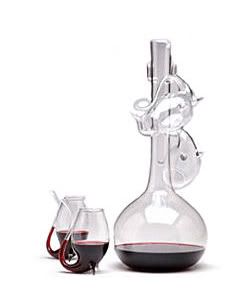 I don't know much about wine even though I drink almost every day – it's like breathing air here in Spain. But I know one thing – I can't stand people who make a big show out of showing off that they know tons about wine … Gurgle – Gurgle. Whatever! Just drink it! I'm more like the dude in Sidways who empties out the spit bucket (kind of kidding).
These unique-looking glasses are designed especially for savoring port, dessert wines or other liquers. Cradle the bowl in your hand to warm the contents, then sip slowly through the pipe, which flows from the bottom of the glass so there is little chance for the liquids to oxidize, enhancing the flavor.
More info: Sophisticated Sipping – Porto Decanter
– Golden Taste on your Tongue – For Real!
Posted by @ 24 October 2008
Tags : Fancy , Glass , Port , Wine