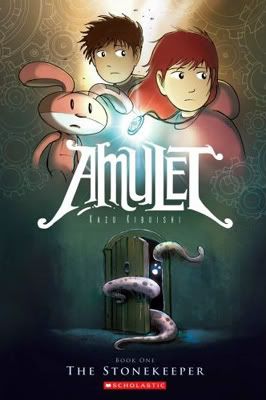 On the flight over to the US I read this super sweet comic Amulet book one: The Stonekeeper by Kazu Kibuishi <- with blog.To be honest I'm not the biggest comic fan unless they make a movie out of it – like Sin City.
Well, me and Random Good Stuff endorse Amulet and I can't wait to get my hands on the second book.
Almost too clever and poignant, Amulet is, on the surface, about navigating the murky waters of adolescence and, beneath that, an exploration of abandonment and survival. Emily and Navin are lost children, literally lost in a dark, new world and struggling to save their mother, who has been kidnapped by a drooling, tentacled beast.

With stellar artwork, imaginative character design, moody color and consistent pacing, this first volume's weakness lies in its largely disjointed storytelling. There is the strong, young, heroine; cute, furry, sidekicks; scary monsters-all extraordinary components, but pieced together in a patchwork manner. There is little hope in his dark world as Kibuishi removes Emily and Navin's frame of safety.

Their hopes rest in a magic amulet that seems to be working in the interest of the children-until it suddenly isn't. The most frightening element of Amulet is the sense of insecurity we feel for Emily, fighting her way through uncharted terrain with no guide and no support system. This first volume of Amulet isn't a disappointment, but it does feel like a warmup to the main event. If anything, it's a clear indication that Kibuishi has just begun skimming the surface of his own talent.
More Info: Amulet
Posted by @ 3 November 2008
Tags : Amulet , Comics , Good , Kazu Kibuishi