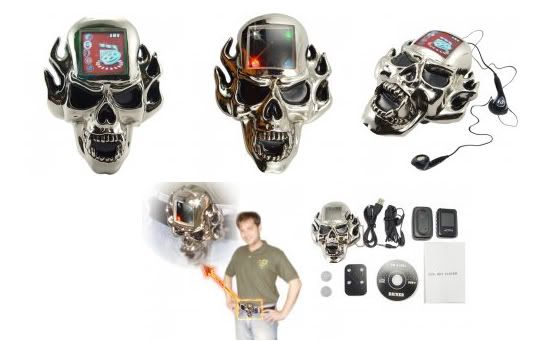 Buckle up and hide show off this scary looking fashion belt buckle.
Large skull belt buckle with square slot to hold a media player or LED light module.

Just when you thought belt buckles were a thing of the past, we have forged for you a new cast metal one with a modern skull design that has a unique window compartment for holding an MP3/MP4 player, LED light module, or your own art/accessories that are 40mm x 60mm or smaller.

This package includes the cast metal belt buckle, 1GB media player, LED light module, and stereo earphones – all that you need to enjoy your new belt in style. Use it just as a regular belt buckle, a stylish MP3 player, an multi-color LED light belt-buckle, or a holder for your own personal property, the choice is yours.

What else can you do with this punk skull belt buckle? Do you have to walk through dangerous a neighborhood at night or hang out at a rough bar? Then we have found the perfect clothing accessory for you. If anyone gives you trouble, just give them a skull in the face! That's right, this belt buckle is so solid you could take it off and use it has a handheld weapon. Wear this unique belt buckle with pride of ownership.
More info: Skull Media Mp3 Belt Buckle
Posted by @ 15 November 2008
Tags : LED , MP3 , Silver , Skull