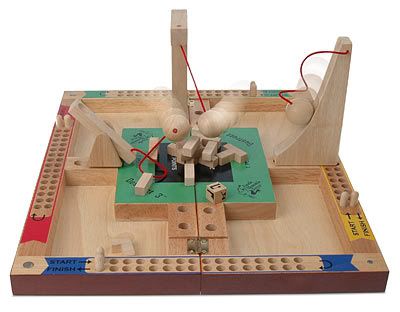 YES – with this game kids get encouraged to let the anger. It's better they do it with this game and than with the smaller sister – SMACK!
There's some satisfaction to be had in destruction. Yeah it's a guilty pleasure, and luckily video games do help to satiate the need to wreck and blow up stuff. Now the Destruct 3 Demolition game makes destruction the objective in a board game format. Simply roll the dice to determine your wooden weapon and attack the center block tower. You can use a ramp, wrecking ball or catapult to accomplish the demolition. Knock blocks to the outskirts of the playing field to gain more points. Ahhh… satisfying destruction at it's best.
More info: Board Game for Agressive Kids
– Bored? Play some Online Games!
Posted by @ 19 December 2008
Tags : Agressive , Board Game , Kids , Wood