Obamamanina .. yeah! 5 more days! Yeah!
Put this historic moment via a giant ballot on your wall: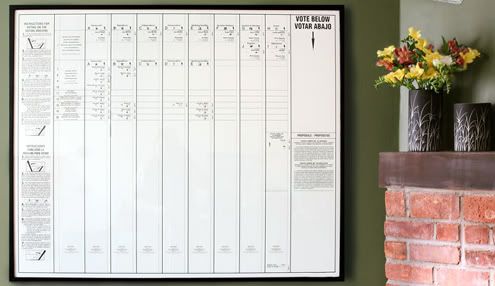 This oversized ballot was printed specifically for the old-fashioned, pull-lever voting machines used in New York City. These hulking gray machines have been in commission since 1962 and after 46 years of service, are slated to go into retirement this year. We are fortunate to have a limited number of these official, uncut, unused ballots.
Sections of the ballot feature voting instructions and a full list of candidates and parties. Handsomely framed in black ash wood and protected by plexiglass, this is a piece of our collective history and a reminder that anything is possible in America. Made in the USA. Each frame includes a certificate of authenticity.
More information: Official Ballot Wall Art
An other Barack Obama Mania piece – watch Daft Punk's latest video being in Barack'O Fever:
Cool – O B A M A!
[via: towleroad]
Posted by @ 15 January 2009
Tags : Ballot , Barack Obama , Daft Punk , Wall