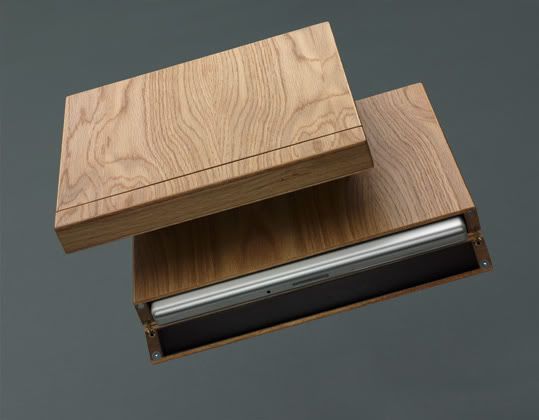 This guest post was written by T.J. Aaron from LaptopLogic.com. Head over to them to read about apple laptops and get the latest info on all new notebooks.
When looking to protect an expensive piece of technology like a laptop, most people choose something along the lines of neoprene or one of many forms of plastic. For those who are looking for something a little more…unique, designer Rainer Spehl might have just what you are looking for.
Designed for Apple's MacBook and MacBook Pro 15-inch laptops, Rainer's wooden laptop case might be just the thing someone with an eclectic taste is looking for. If the real wood casing wasn't enough, with quite a thick composition judging by the photos, the interior is lined with genuine leather. You also get a very slick magnetic latch system, holding the flap closed and keeping your precious MacBook (or really any other notebook with those dimensions) safe.
Pricing isn't listed on Rainer's website, nor is availability, but we have a feeling that if you have to ask how expensive this status symbol is, then you probably shouldn't be asking. The upside to that is that you can probably have this made in about any shape or proportions. Maybe Rainer can make one for your iPhone while he's at it!
One has to wonder though, just how secure is that magnetic flap? What would happen if you grabbed this thing at the wrong end, would your pricey piece of Apple-worship come crashing out? Maybe this would be a good way to test out the all-aluminum frame of one of the new MacBooks.
Posted by RGS @ 26 January 2009
Tags : LaptopLogic , MacBook , Reiner Spehl , Wood