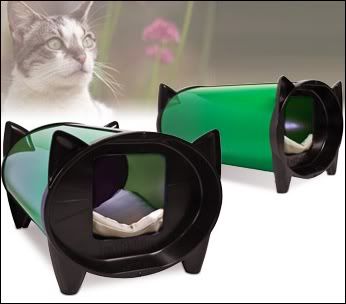 Hey inventors of the KatKabin… what about a KatLitterkabin with automated sliding doors, too keep the stink in?
A healthy cat has a hearty social life. This means that your cat may not get back to the house until well into the early hours of morning and if you're not allowed to install a catflap in your backdoor or just can't bear the security risks one poses you'll be subjected to that all to familiar mewling ("please let me indoors, it's ever so chilly outside – you know I love you really") until you finally drag yourself out of bed and dutifully let the cat back in. Now you can sleep easy with the KatKabin.

For too long now, dogs have been favoured with the kennel – their own little maisonette in which to earn some well earned rest. Now cats too can have their own DezRez in the KatKabin. It's a very cosy shelter that'll protect your cat from the elements while they recover from a night on the tiles – no longer will you have to surface at the crack of dawn just to crack the back door open.

The KatKabin is insulated with a special cat cushion that'll keep your moggy comfy and warm while the weather turns sour. Its Oval design even makes sure that the heat circulates and because it stands above ground your cat won't get cold feet. Or, if you're particularly fond of spoiling your cat you could just set it up indoors so it has its own private boudoir.
More info: Designer Katkabin
Posted by RGS @ 6 February 2009
Tags : Cats , Spacy