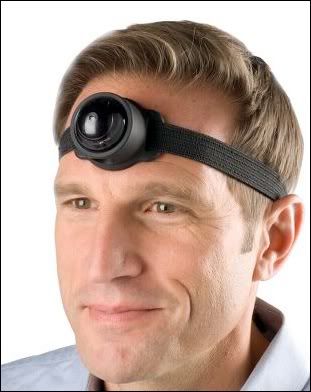 Just use double sticky tape instead of the head-strap and off you go to scare your grandmother and video-tape her while she freaks out.
Smaller than a golf ball, this ultralight spherical video camera attaches to a headband, providing a third eye while biking, hiking, or during other activities. The camera's sensor captures images at 320 x 240 resolution at 30 fps (the built-in microphone records audio). Up to 1,200 still images and six hours of video can be saved onto the included 8GB micro SD memory card. Images and video are downloaded to your PC via a USB cable (requires PC running Windows with USB 2.0).

It can also be connected to a TV for viewing images and video using the included cable. The rechargeable battery provides up to 2 1/2 hours of continuous operation from an eight-hour charge using the included USB cable. The camera can also be set to record images and video when it detects movement, preserving battery life.
More info: The Third Eye Video Camera
– Random Good Stuff likes to twitter
Posted by RGS @ 14 February 2009
Tags : Camera , Cyclops , Odd , Skateboarding